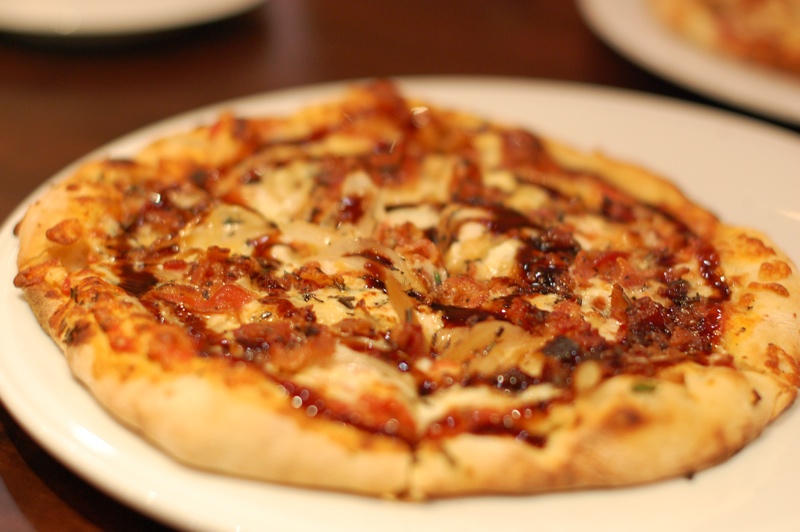 On day two of it's opening, the fiance and I decided to stroll down to Fireworks American Pizzeria & Bar to see if the latest pizza addition to the Courthouse dining scene was any good.
The Food
We started the night off with the risotto fritter, sitting in what I'd consider a pool of thick blue cheese sause.  Just looking at the dish made my arteries corrode, but it was tasty none the less.
Then we ordered two pizzas; the first being the "Smokey Blue" which consisted of gorgonzola, wood Roasted Onions,  smoked bacon, tomato sauce, rosemary, and an aged balsamic glaze.  I personally liked the size of the pizza and at first glance it looked promising, but the rosemary basically ruined the dish.  All I could taste in just about every bite was rosemary.
The second pizza was the "French Connection", consisting of white sause, brie, apples, chicken, roasted onions, prosciutto, tomatoes, and a "drizzle of dijon cream"  This was also a good looking pizza, but despite all its ingredients was quite bland to me, though my fiance liked it better.
The Dessert
While the pizza concoctions were disappointing the freshly baked chocolate chip cookie cake topped with ice cream in our minds was a real winner.  It's hard to screw up a freshly baked cookie (though we've seen it done) and we scraped the bottom of the iron cast dish to eat every last bite.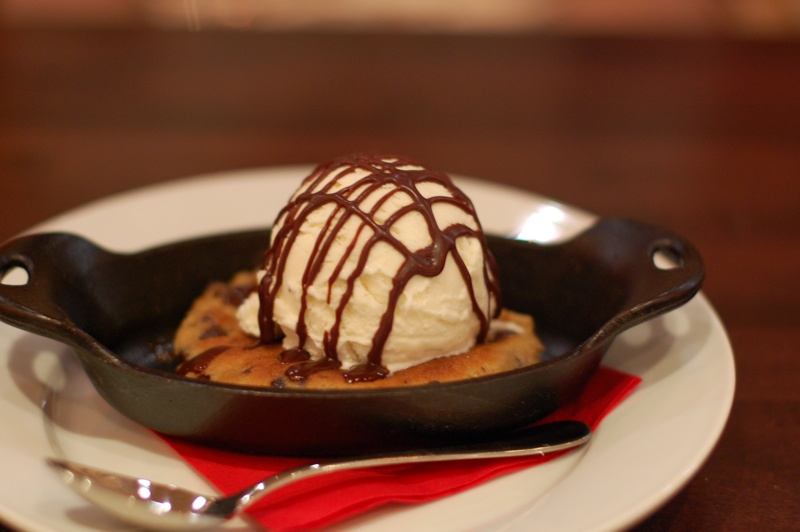 The Drinks
The beer list was what I'd consider good and they had a large selection of microbrews on tap along with a large selection of bottled beers too.  They also do smaller tasting sizes on tapped beer, which looked like they came in four ounce servings.  We didn't explore the wine list, but there was a wide variety to choose from.  All in all there's something for everyone here.
Final Thoughts
Even with what I'd consider overly dressed, bland pizzas, my first impression of the place was a good one.  The dessert really won us over and the atmosphere just felt right.  We decided that we'd definitely return, but the next time build our own pizzas or try something a little simpler.
Around the Web
Yelp – 5 of 5 stars (4 reviews)
Restaurant Info
Fireworks American Pizzeria & Bar
2350 Clarendon Blvd.
Arlington, VA 22201
703.527.8700
Website