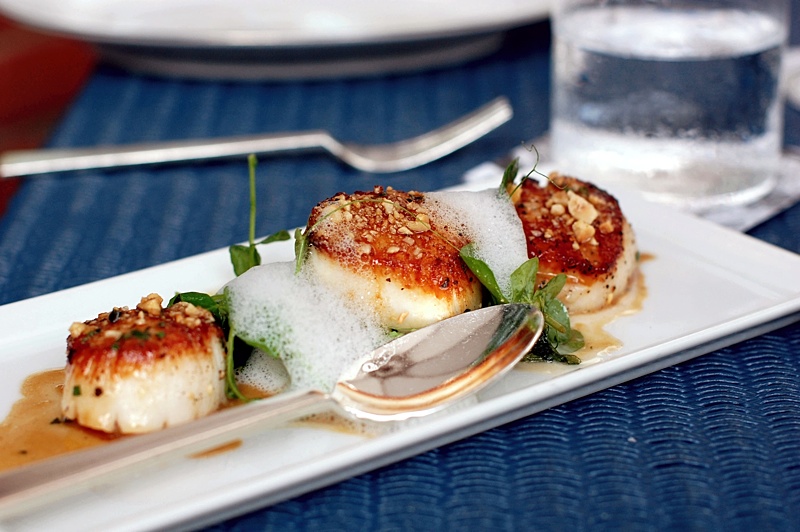 I had heard good things about the Blue Duck Tavern from a number of people so the fiance and I decided to spend our Saturday night seeing what all the fuss was about.
The Food
Our meal started off with an appetizer of scallops topped with hazelnut crumble that sat in a bed of chopped english peas. Our first bite did not disappoint. The scallops were cooked to perfection, and the hazelnut really worked to the dish's advantage. The peas below were good, but their chopped preparation I did find a little odd.
Next was the galantine of guinea hen served with fresh brioche and peaches. There was nothing really wrong with this dish, but all in all it was a little bland. If I had known exactly what I was in for, I would have ordered the foie gras "candy bar" instead because I'm betting it would have worked a lot better with the brioche and peaches than the galantine.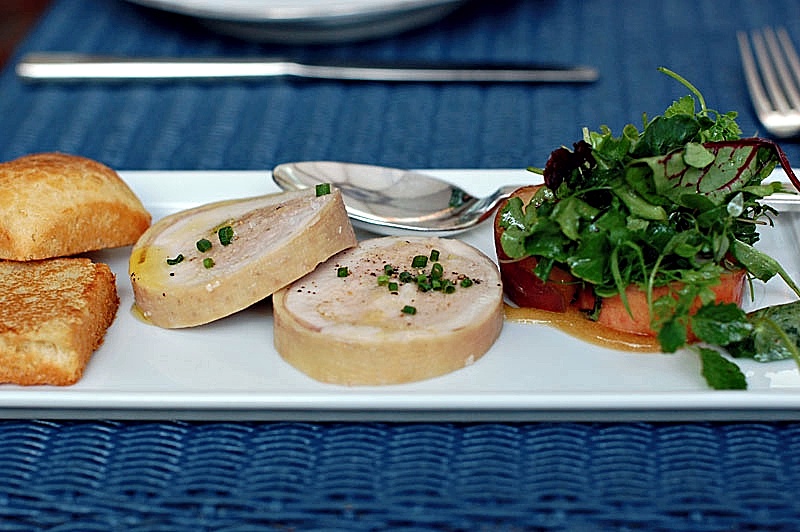 Our first main was the braised beef ribs, which were really presented quite nicely, though were not completely devoid of issues. In general they were a little on the dry side, partly because there just wasn't enough sauce. The sauce with the beef ribs was great, but each time I used the provided spoon to try and scoop up some sauce, there was really only enough to drizzle on the beef ribs. This forced me to take my forkful of ribs and scrape it along the bottom of the pan to get as much sauce as possible.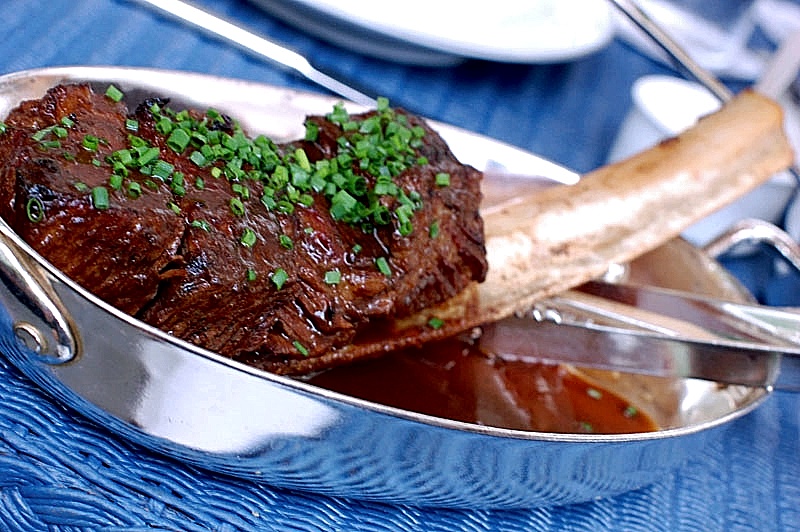 And then our last main course was the jumbo lump crab cakes, which were delicious! I am not that big a fan of crab cakes, but these had big chunks of crab and weren't loaded with mayonaise. The mustard dressing was really tasty too and for me these were the one of the highlights of the meal; the other highlight being the French fries.
I have to say that the French fries were quite great. They were described as having a mashed potato like texture on the inside, with a French fry crunch on the outside. This was in fact the perfect way to describe them. In size they looked more like French toast sticks than French fries, but they were delicious and served with a light aioli dipping sauce. We couldn't finish them all and ended up bringing them home to eat later.
The Dessert
For dessert we were instructed to get the apple pie and then we also chose to order a coconut yogurt cream with fruit and cashews.
We were not steered wrong with the pie. You actually get a full miniature apple pie, which had a really nice flakey crust. The other dessert was a real letdown. I'm not really sure what we were expecting from it, but it just didn't work and was kind of like eating sweet mush.
The Drinks
I had two glasses of wine; an aperitif of Roederer Estate brut, and then a Ponzi "Tavola" Pinot Noir 2008, which were both quite good. The wine list is extensive, and I personally would not know how to evaluate it, so I won't even begin to try. From what I remember, there was also a small but eclectic beer list. My fiance tried one of their cocktails which was a mango, banana and vodka frozen martini like concoction. She really enjoyed it.
The Atmosphere
The Blue Duck Tavern is a real looker. There is a huge open kitchen when you first walk in, and the place just has a really good feel to it. They also have a really lovely outdoor patio space which is where we elected to eat. The service was friendly and professional and made for a really pleasant meal.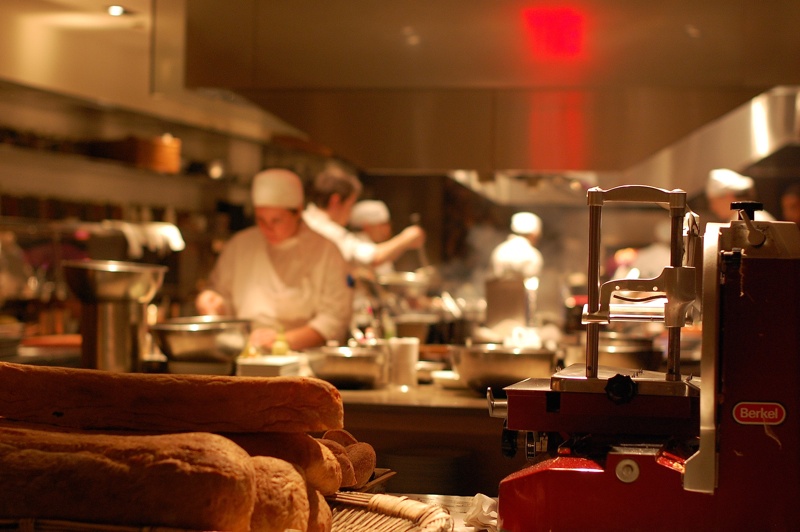 Final Thoughts
I believe that this restaurant for the most part lived up to its recommendations. It's a very pleasant place to eat and the food ranges from above average to great. For places in the D.C. area with no tasting menu and only a standard a la carte option, it's probably within the top five.
I also think the meal was priced about right. Everything tasted fresh and there's only one entree that is above thirty dollars. It's not a bargain, but I didn't feel ripped off, and you're getting what you paid for.
While there are certain things about the food I would have wished were a bit better, if you're looking for good new American food with good service in a really nice atmosphere it's hard to go wrong with Blue Duck Tavern.
Rating: 2 of 4 Stars
Around the Web
Restaurant Info
Blue Duck Tavern
1201 24th St NW
Washington, DC 20037
202.419.6755
Website