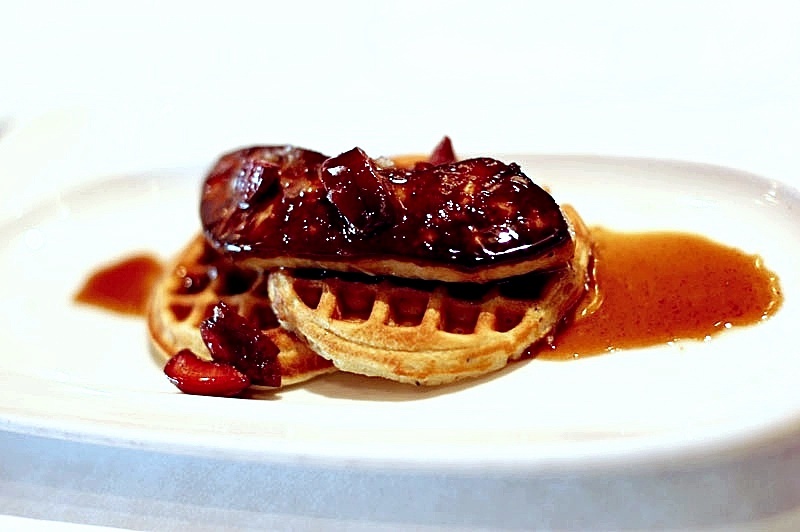 Every time I see a chef on television, it always leaves me wondering what their food actually tastes like. So when the fiance and I were in Miami for a destination wedding, we just had to check out Michelle Bernstein's restaurant, Michy's.
The Food
We opted to get the tasting menu which was made up of three courses, three dishes each and then a dessert; ten courses in all. Of the ten, there were three truly wonderful dishes.
There are certain dishes which just make you smile. They taste wonderful and as you take your first bite, you know instantly that the dish is a real standout. Such was the case with the foie gras waffles. The combination of the seared creamy foie gras with the sweat syrup, delicate waffles, and a dash of salt really elevated the dish to one of the best foie gras dishes I've ever had. It was innovative, whimsical and just a real delight to eat.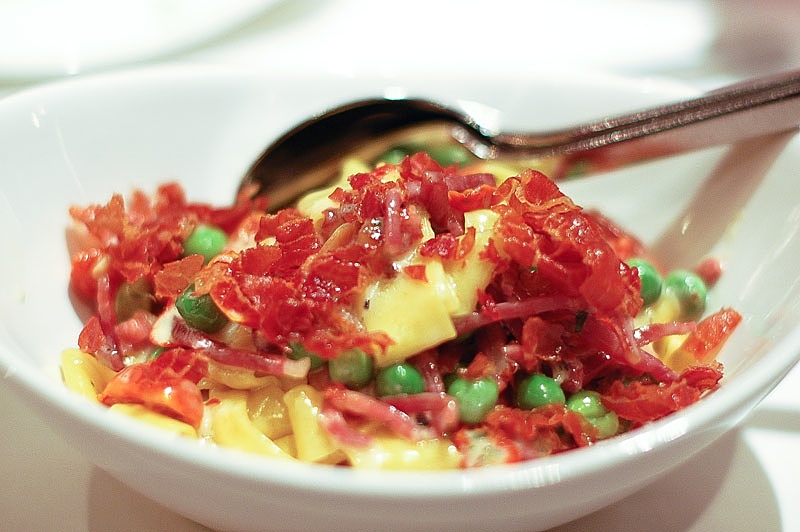 The other two dishes that really made my day were the prosciutto and bacon fettuccine and the short ribs with mashed potatoes and corn. The house made fettuccine was perfectly cooked and wonderfully delicate. And I found the corn went great with the short ribs and mashed potatoes. I often don't see corn as a sort of garnish for beef, but the combination just worked.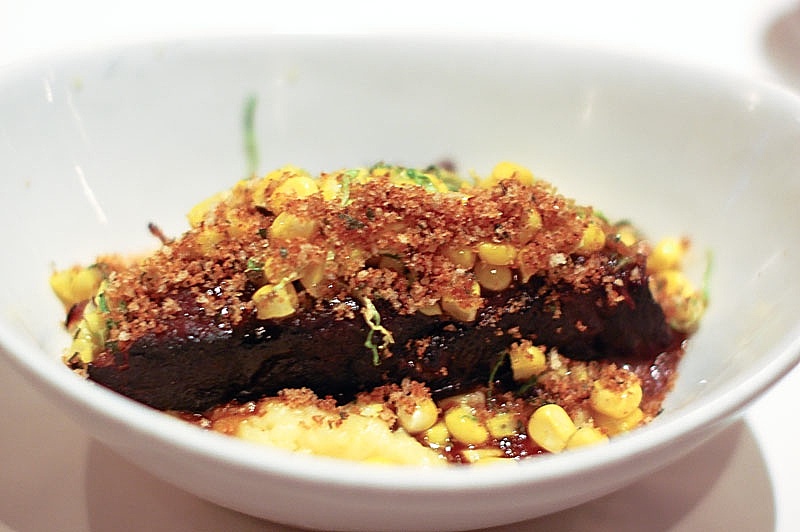 All the other dishes were good, but those three really stood out in my mind. My only real complaint was the first course, which was a duet of Kusshi and Kumamoto oysters, where I found the Kumamoto oysters to be considerably smaller and less plump than some of the better ones I've had.
The Atmosphere
The decor at Michy's is pretty tacky, with orange patterned wallpaper and bright floral colored chairs. The rest of the place is mostly painted a dark blue, including the ceiling. Even though it was tacky, I think it still had a good enough feel and didn't detract from the food in any way.
The service was really spot on. The staff was knowledgable, the meal was well paced and we were never intruded upon.
I will also mention that having Michelle Bernstein greet us as we left was a real treat. I think it's a wonderful touch for a chef to say hello to his or her customers.
Final Thoughts
I was really impressed with Michy's and Michelle Bernstein's cooking. There were a few extremely impressive dishes and the consistency level of the entire meal was very high. There was not one bad bite of food to be had.
I will also say that the tasting menu at $75 dollars was a real bargain considering the amount of such high quality food you receive.
While I don't find myself in Miami very often, I'd return to Michy's in a heartbeat, and the next time I see Michelle Bernstein on television, I'll think fondly of this memorable meal.
Rating: 3 of 4 Stars
Around the Web
Yelp – 4 of 5 Stars (97 reviews)
Zagat – 27 Food Rating
Restaurant Info
Michy's
6927 Biscayne Boulevard
Miami, FL 33138
305.759.2001
Website