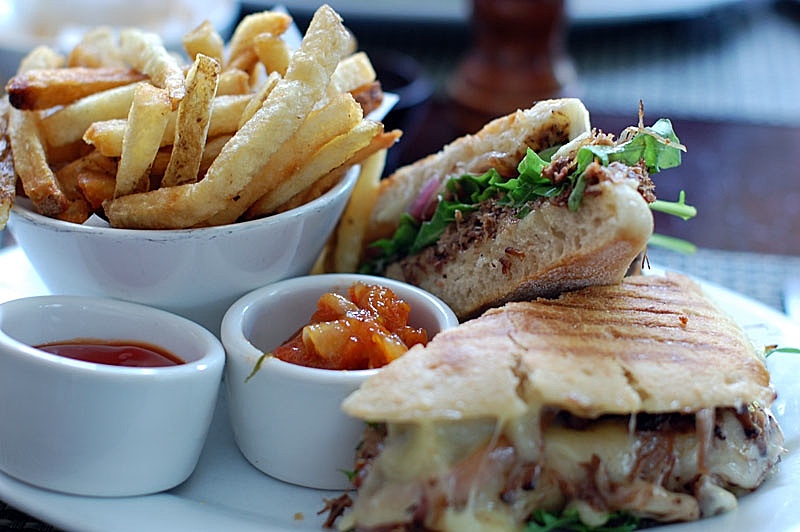 On our only free day in Miami, the fiance and I headed over to the design district to try out Sra Martinez, a tapas restaurant located in a former post office for lunch, but we just missed their lunch hours. Lucky for us, Michael's Genuine Food & Drink was literally a block down the street.
The Food
We started off our lunch with a small bowl of hominy coated in a sort of chili spice. These were a great little crunchy snack with a bit of heat to start the meal. I have to admit I'm really not that familiar with hominy, so it's tough for me to judge, but they were highly recommended to us by the diners sitting next to us and they did not disappoint.
Then we ordered short rib and fontina cheese panini, which was more or less a gourmet take on steak and cheese. The ingredients were fresh and the bread had a nice crispiness to it. To my surprise the sandwich held together extremely well making it not just tasty, but also easy to eat. It came with a side of fries, which were good and a side of heirloom tomato chutney, which to me tasted a little too much like ketchup.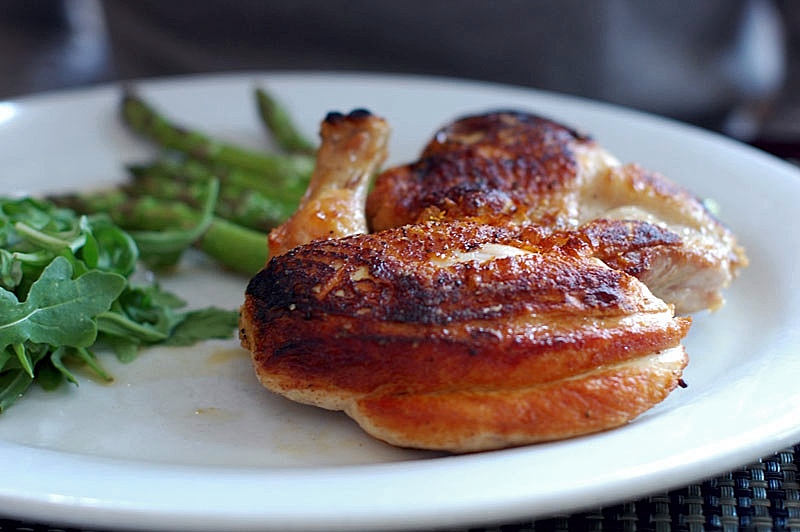 Next up was the pan roasted half chicken. I'll admit the photograph looks really boring. There's nothing particularly special about chicken on a plate with some greens, but it was perfectly cooked and really juicy. The side of wood-grilled asparagus and greens just tasted great and it's clear that chef Michael Schwartz really cares about his produce.
The Dessert
All the desserts that we saw pass by us looked out of sight, but we could only find room in our stomachs for one. We opted to go with the banana toffee panini, with a mini chocolate caramel sundae. The caramel sunday was kind of awesome, with a sweet gooey iciness that just hit the spot. The banana panini was good too, but not quite as memorable.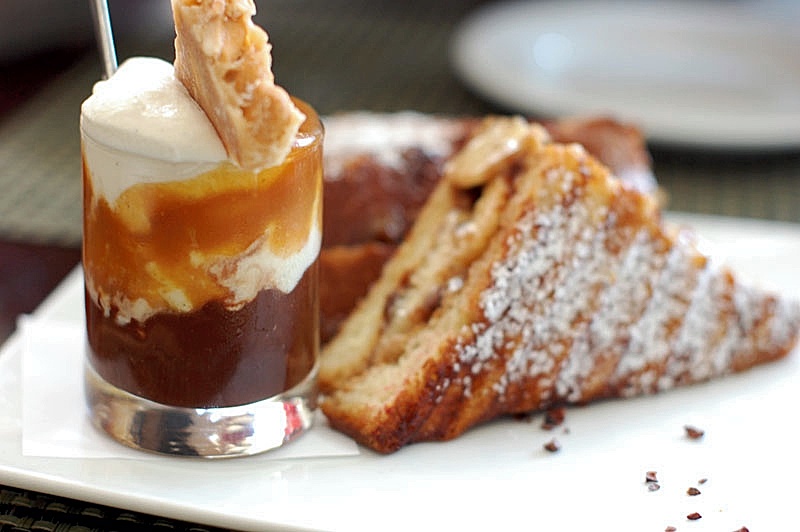 I have to say that tasting just that one dessert and seeing all the other ones pass by, I'd be temped to skip lunch and just do a sampling of all of pastry chef Hedy Goldsmith's creations.
The Atmosphere
Michael's Genuine has a great feel to it. It's bright and lively and has a pleasing color palette of brown, gray and deep reds. The tables are packed in pretty close, but it gives the place a neighborhood feel where everyone is eager to recommend their favorite dish.
The service was very friendly and knowledgable about the food, and there was nothing I could complain about.
Final Thoughts
Michael's Genuine Food & Drink is a great lunch place and if it was in D.C. I'd eat there all the time. I would also say that dessert is not to be skipped over and should be made mandatory.
I was really won over by their clean flavors, fresh ingredients and if I didn't mention it already, delicious and innovative desserts. I'm told their dinner menu is completely different and next time I'm in Miami I'm curious to see what an evening at Michael's Genuine Food & Drink will bring to the table.
Around the Web
Yelp – 4 of 5 Stars (206 reviews)
Zagat – 26 Food Rating
Restaurant Info
Michael's Genuine Food & Drink
Atlas Plaza
130 NE 40th St
Miami, FL 33137
305.573.5550
Website